Beginning Nov 6 - Tix Now on sale:
http://www.jordansimax.live.terabyte.co.nz/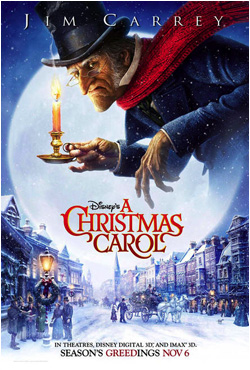 _________________

"Everyone happy?"
add Melissa, Laura & Frank to the list of attendees on Sat 11/7 at 4 - can't wait! just bought the tickets!
Wahoo, you too?
First there was 1 - now there are 12
_________________

"Everyone happy?"
There ended up being 16 of us!

Click on this link for proof:

IMAX - A CHRISTMAS CAROL
_________________

"Everyone happy?"
Thank-you for capturing such great moments! We are so glad that we were able to make it - a great time with great friends!
Yeah it was a great time. Ken and I plan to see it again soon, but hopefully not at a children's matinee HA HA.
I bet alot of parents have no clue that this is NOT a movie for young ones, say under 8 or so..
Disney as usual did a masterful job of publicizing this movie. Get em in the seat just once and let the dvd sales
take care of themselves..
Pre-release trailers showed the wonder that is Jim Carrey ala animation, the usual holiday time fun in the snow, flying over rooftops, and carolling. What more could children want? Certainly not the very dark Dickens classic tale of Scrooge's bah-humbug mentality, depictions of his most certain death and the promise of a horrific afterlife. Even the usual disney fluffy backgound music and comic relief during the ghost visits might not help a 5 or 6 yr old to remain free of some kind of traumatic stress disorder. Hmm, childhood anxiety during the holidays - like the usual nightmares aren't enough!
I can't imagine being a parent and knowing that I caused my little one distress when all I wanted to do was give my child the gift of a fun family day at the movies during the holidays. Ugh. Nice plan Disney.
I have to say. Pretty good marketing plan on their part. "from the makers of Polar Express" .. "free family fun and exhibits" aboard Disney's travelling "Christmas Carol train tour"...And ooh, lets throw in some action figures too..ha ha
Now as an adult, ok, a childish one - I enjoyed the movie alot. Technology is a wonderful thing. Take a Dickens Classic, add
some brilliant vocal talent by way of Jim Carrey, Gary Olman, Bob Hoskins, Robin Wright Penn and others..mix in Robert Zemeckis with the Disney Team. BANG!
I'll no doubt see it again soon. Perhaps I'll even buy the dvd - excuse me, Blu-Ray of course.
But imo, its no Polar Express

_________________

"Everyone happy?"
_________________

"Everyone happy?"


Similar topics
---
Permissions in this forum:
You
cannot
reply to topics in this forum